Namesakes
Robert Sargent Shriver Jr, Doctor of Public Service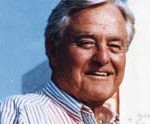 In 1994, UMBC welcomed the Shriver family's decision to move the Shriver Peaceworker Program here. Established in honor of Mr. Shriver, the Peaceworker Program promotes "the intelligent interaction of public-spirited initiatives for social change and religious, moral, and ethical reflection."
A son of Maryland and a longtime advocate for the poor and the powerless, Robert Sargent Shriver Jr. compiled an unparalleled record of public service at every tier-from the local level to the world community.
A graduate of Yale University and Yale Law School and a member of the U.S. Navy for five years, Mr. Shriver served under President John F. Kennedy as the organizer and first director of the Peace Corps. He developed volunteer activities in more than 50 countries in Africa, Asia, and Latin America, from 1961-1966.
Then, under President Lyndon B. Johnson, Mr. Shriver took on another pioneering role as the first director of the Office of Economic Opportunity, from 1964 to 1968. He was responsible for creating such socially conscious programs as VISTA (Volunteers in Service to America), Head Start, Community Action, Foster Grandparents, Job Corps, Legal Services, Indian and Migrant Opportunities, and Neighborhood Health Services. During this time, he was Special Assistant to President Johnson and from 1968 to 1970 was Ambassador to France.
In 1984, he was selected as President of Special Olympics, Inc., working side-by-side with his wife, Eunice Kennedy Shriver, Founder and then Honorary Chair of Special Olympics, Inc. As president, Mr. Shriver directed the operation and international development of sports programs for persons with intellectual disabilities in countries around the world and he continued to serve as Chairman Emeritus of the Board.
Mr Shriver received the Presidential Medal of Freedom, the nation's highest civilian honor, from President Bill Clinton, who said,
"Robert Sargent Shriver has not only shared, but shaped, the action and passion of his times. It was Sarge Shriver's energy, persuasion, and leadership that made the goals of the Peace Corps attainable, that living reminder that the essence of American power is not might of arms, but constancy of ideals, and perseverance of effort. That so much endures with his indelible stamp both stuns and invigorates Head Start, VISTA, Foster Grandparents, Legal Services, the Job Corps, and more. He released a torrent of creative energy. 'Serve, serve, serve,' Sargent Shriver told Americans,because in the end, it will be the servants who save us all.' His service has been our legacy of hope."
Mr. Shriver was born in Westminster, Maryland, and spent his early childhood in the Baltimore area. He was married to Eunice Kennedy Shriver, Founder of Special Olympics, Inc. Mr. Shriver passed away on January 18, 2011.
Eunice Kennedy Shriver, Doctor Of Public Service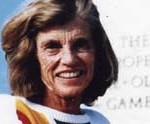 The Shriver Center at UMBC, named in honor of Eunice Kennedy Shriver and Sargent Shriver, was created in December 1993, with the mission of mobilizing the talents and resources of higher education to confront and solve the problems facing urban America today. A particular priority of the Center is to develop collaborative projects of service, learning, and research that engage faculty, students, and the community in the complex challenges affecting the quality of life for those most vulnerable among us.
For more than three decades, Eunice Kennedy Shriver worked tirelessly on behalf of persons with intellectual disabilities. As Executive Vice President of the Joseph P. Kennedy, Jr. Foundation, Mrs. Shriver helped achieve many advances in both social policy and general understanding of the issues facing individuals with intellectual disabilities. As Founder and Honorary Chair of Special Olympics International, she began the highly visible international movement so that 'a large part of the world sees people with intellectual disabilities as people who can learn, perform, contribute and change our lives for the better.
Initiatives implemented under Mrs. Shriver's guidance include the National Institute for Child Health and Human Development (1962), changes in Civil Service regulations that allow persons with intellectual disabilities to be hired on the basis of ability rather than test scores (1964), the Special Olympics (1968), major centers for the study of medical ethics at Harvard and Georgetown Universities (1971), and the, Community of Caring'Äù programs to reduce intellectual disabilities among babies of teenagers (1981-1997).
For her efforts, Mrs. Shriver was recognized with numerous honors and awards. When presenting her with The Presidential Medal of Freedom on March 24, 1984, President Ronald Reagan said, '"With enormous conviction and unrelenting effort, Eunice Kennedy Shriver has labored on behalf of America'its least powerful people, those with an intellectual disability" Her decency and goodness have touched the lives of many, and Eunice Kennedy Shriver deserves America's praise, gratitude, and love.
Ms. Shriver graduated from Stanford University with a B.S.and woked for State Department and as a social worker. In 1957, she became Director of the Joseph P. Kennedy, Jr. Foundation.
The fifth of nine children of Joseph P. and Rose Fitzgerald Kennedy, Mrs. Shriver was born in Brookline, Massachusetts. She was married to Sargent Shriver. Mrs. Shriver passed away on August 11, 2009.