Campus Compact Mid-Atlantic
The Shriver Center and UMBC specifically, was one of the founding partners with what is now known as The Campus Compact Mid-Atlantic (formerly the Maryland-DC Campus Compact),  a non-profit membership association of public, private, 2- and 4-year colleges and universities. MDCCC provides leadership to colleges and universities in Maryland and Washington, D.C. by advocating, supporting, and encouraging institutional participation in academic and co-curricular based public service and civic engagement programs. MDCCC strengthens the capacity of member institutions to enhance student learning and to meaningfully engage with communities. MDCCC is supported through a combination of institutional dues, federal and private grants, and in-kind contributions. The MDCCC office is housed by Hood College in Frederick, Maryland.
Campus Compact Mid-Atlantic VISTA programs join the mission of Campus Compact and AmeriCorps VISTA through projects that build campus-community partnerships to fight poverty. Through the Campus Compact VISTA program, we alleviate poverty by strengthening communities and developing our leaders.
Alexis Logan-Brown was born and raised in Frederick, Maryland. She is a recent graduate of the College of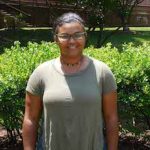 Charleston in Charleston, South Carolina where she majored in International Studies with minors in Political Science and Psychology. While at school she studied various languages and was able to travel to the Middle East, which increased her interest in international and refugee politics. She was able to become the President of the Arabic Club and head a program for international students studying at her university. Through various organizations, Alexis has striven to increase the number of ethnic minorities on college campus' and increase the information and networks available to minority students looking into higher education. In the future, Alexis hopes to be an advocate for refugee rights and international relationships with conflict-ridden countries.
Project: The UMBC/Refugee Youth Project College Access Mentoring Program will create and implement a near-peer college access mentoring program between high school refugee students and UMBC volunteers. By engaging students in college readiness workshops and activities, the project will increase the number of refugee youth that successfully enroll in two and four-year institutions.
To learn more about CCMA, visit: http://www.mdccc.org
To learn more about AmeriCorps VISTA, visit: http://www.nationalservice.gov/programs/americorps/americorps-vista