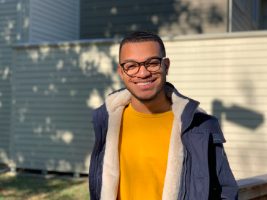 Hey everyone! My name is Thomas (like the train) and I am from Prince George's County, Maryland! I am a rising junior pursuing a Bachelor of Science in Financial Economics with a certificate in Finance. This year, I will be serving as the Resident Assistant (RA) on the amazing Shriver Living Learning Community and I can confidently say that I am proud to be a member of this community. Last year, I served as a peer mentor and I couldn't see myself leaving!
I have a passion for advocating for underrepresented students and I am always searching for a way to help my community. For the past two years, I have been volunteering for UMBC's Choice Program College Night where I work with students from different communities of Baltimore. I have loved every second I've spent volunteering for this influential program and I plan to return this academic school year. My experience on the Shriver Floor has given me transferable skills that has given me the confidence and courage to pursue different opportunities to help jump start my career in finance.
In the future, I plan to hold the positions as an American businessman, author, motivational speaker, investor, and family man. My favorite thing to do is going on adventures and going to the movies! I am an avid believer in the power of one's mind and I love spreading positive energy. My favorite quote is: "Everything you've ever wanted is on the other side of fear."
I am looking forward to a new year on the Shriver Floor and I am excited to meet you all!
---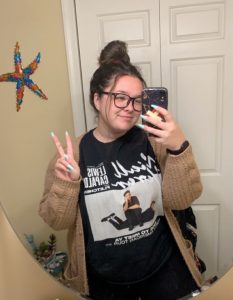 Hi all! I am Chloe Grant and I am a rising sophomore, I am beyond excited to be one of your peer mentors! I am currently working towards a BA in theatre on the design and production track, as well as working on a minor in arts entrepreneurship. I am excited to adapt to this new form of learning with each of you! In addition to being a peer mentor, I am also a member of the Sondheim Public Affairs Scholars Program and Phi Mu Fraternity (Service Chair Fall 2020). This past year, I served with College Gardens and Walking Discovery. The most important thing I learned throughout my time working with these organizations was to not hold back or be scared of serving to your fullest extent. You're going to be able to learn more and help more when you put yourself out there!
A bit more about me: I'm from St. Mary's County, Maryland. I'm very passionate about theatre, mental health, and dogs. In my free time, I like to read, bake, and paint! If you see me around campus, don't hesitate to say hi!
---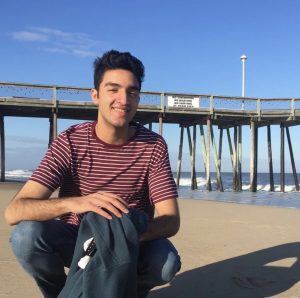 Hello Shriver Fam! My name is Rehman Liaqat and I am currently a rising sophomore in the community of "inquiring minds" majoring in Political Science and Global Studies on a Pre-Law track. Although my first year experience got cut short by an unprecedented global pandemic, we're still living and STRiVing and searching for everything beautiful within our communities and within ourselves. Joining an LLC, especially one that is service-oriented, was something I never considered and felt very anxious doing so but like they say "the best things in life come unexpectedly".
As a freshman on the floor, I served with the Choice Program's College Nights which optimized high school students from mostly minority backgrounds to consider college as a possible option for their future. Through my privilege of having an opportunity to make such an immense difference in their lives, I had incredible conversations with students dealing with issues that I realized I never had to witness. I felt truly enlightened and inspired by the stories I heard and the conversations I have had with community leaders embracing the work of the Choice program.
It was the gradual growth I endured throughout my experiences on the floor and the conversations I had with mentors and friends and serving the ones around me that led me to chase the parts of myself that I never found worthy, dive into a sense of resilience and ambition fueled by the livelihood and the wonders our communities enlighten us with, and holding onto grit, True Grit.
---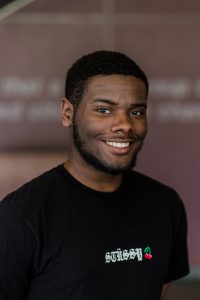 Hey everyone! My name is Zachary Tolliver and I am a rising sophomore, and one of your peer mentors! I am pursuing a B.S. in Biological Sciences on the pre-med track. Also, I am one of the S.I. Pass leaders for Chem 101, as well as being a Sherman Literacy Fellow for Curtis Bay Elementary School. I can't wait to meet and learn with you all through this virtual semester! As a freshman, I volunteered with Sherman Literacy Fellows at Bay Brook Elementary this past year. Being a part of Shriver has changed my view and perspective on a lot of things, as well as creating new and lasting friendships. With the peer mentors that assisted me, I was inspired to be one myself. My most important advice is to not be afraid to try new experiences here at UMBC, you'll never know what you discover, and find a passion for.
A bit more about myself: I'm from Prince George's County, Maryland. I love music, cooking, and overall just chilling out. I look forward to seeing you all, and I cannot wait to learn more about each and every one of you!
---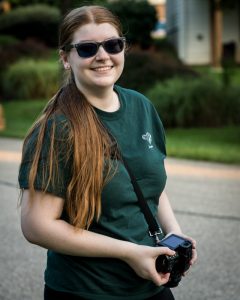 Welcome to the Shriver Fam! My name is Zoe Smith and I am a rising sophomore, as well as one of your peer mentors! I am pursuing a B.S. in Computer Science on the Data Science track and a B.A. in Political Science. In addition to being a peer mentor and peer facilitator for the Shriver LLC, I am a Writing Center Tutor, Communications Director of the UMBC College Democrats, and a Learning Assistant for Physics 121. As a freshman, I served with Retriever Essentials and Student Ambassadors. Being part of Shriver has truly changed my life and I am so grateful for all of the amazing opportunities and experiences that have come with it!
A bit more about me: I love hiking and photography! One of my goals is to visit every single one of the national parks; so far I have been to nine of the sixty-two. I also like to plan and organize, so you can bet that I have already started planning for my future trips! Every day I am amazed by the beauty of the world that can be found online, all around the world, and even in our own backyards. I cannot wait to learn more about all of you!