France-Merrick Scholarship Program
The Shriver Center coordinates this undergraduate scholarship program, funded by the France-Merrick Foundation. For more than 20 years, this scholarship is available for students who demonstrate an exemplary commitment to service, leadership, and civic engagement on the UMBC campus and in Baltimore City.  The France-Merrick Scholarship Program seeks to combine service and reflection, build relationships, and strengthen networks to affect meaningful change.
Scholarship Awards:
Fellows are awarded a scholarship that goes towards tuition, mandatory fees, and room and board expenses.  This will not exceed $15,000, which is distributed across the academic year.  Fellows will engage in service connected with Baltimore City;  serve in leadership roles (which includes convening meetings for the France-Merrick Scholarship Program), support meaningful professional development, and serve as ambassadors of service at UMBC.
Scholars are awarded a scholarship of up to $3,500, which is distributed across the academic year. Scholars will engage in service connected with Baltimore City, support meaningful professional development, participate in meetings, and serve as ambassadors of service at UMBC. The number of Scholars and awards vary each year, depending on the strength of the applicant pool and available scholarship money.
2019-20 Fellows:
Fikir Ejigineh '20, information systems
Princess Sara Njemanze '21, chemical engineering, with computer science and entrepreneurship and innovation minors
2019-20 Scholars:
Fehintola Elizabeth Bright-Awonuga '22, health administration & public policy
Rees Draminski '22, computer science and philosophy
Keren Herran '21, individualized study program "Global Health Considering Environmental Factors"
Maia Parker '22, English, with elementary education certificate
Hager Younes '22, biological sciences, with psychology and Arabic minors
Eligibility criteria 

Be a U.S. citizen
Be an Undergraduate Student at the beginning of the upcoming Fall semester of the award year.  Applicants' graduation date should be no sooner than that following May.  Incoming freshmen and transfer undergraduate students are welcomed to apply.
There will continue to be significant cohort building in this UMBC program. Therefore, selected students MUST attend UMBC both semesters during the academic year ahead to be considered.
Demonstrated experience in service to the Greater Baltimore community.
France-Merrick Fellows and Scholars will continue to participate in service to Baltimore City during the award year in meaningful ways. Shriver Center Staff will work with recipients to identify community engagement opportunities.
RECRUITMENT UPDATE!  
Recruitment for 2020-21 is closed.  Please check back in Fall 2020 for more info on recruitment for the 2021-22 cohort.
Questions?  Contact:
Lori L. Hardesty, MPA
Associate Director, Applied Learning & Community Engagement
UMBC/The Shriver Center
1000 Hilltop Circle
Baltimore, MD 21250
(410) 455-2493 (office)
lhardesty@umbc.edu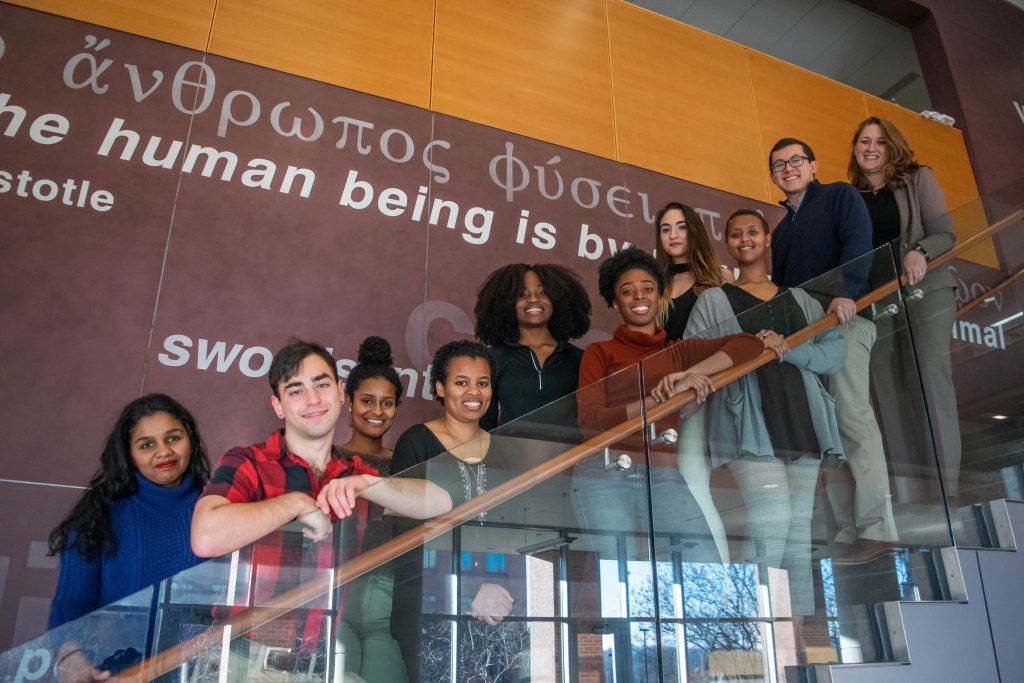 2018-19 Cohort
Fellows:
Luwam Gebreyesus Health Administration and Public Policy
Jamey Sultan Emergency Health Services
Scholars:
Evan Avila Economics & Political Science 
Fikir Ejigineh Information Systems
Meheret Gebreegziabher Biology, B.S. & Information Systems (Minor)
Jessica Linus Health Administration and Public Policy
Princess Sara Njemanze  Chemical Engineering & Entrepreneurship & Innovation (Minor)
Shiona Wijesekara Economics & Mathematics
2017-18 Cohort
Fellows:
Yamini Narayan  Health Administration and Public Policy
Morgan Zepp  English Literature and Global Studies, Spanish & Writing 
Scholars:
Kayla Addai  Biology B.A., Music
FeiFei Ma  English; East Asian Studies and Gender and Women's Studies
Stephanie Milani  Computer Science and Psychology
Becca Nolder  Social Work, Music
Jasir Qiydaar  Media & Communication Studies, Writing
Savannah Steinly  Chemical Engineering, English
Nailah Turner  Psychology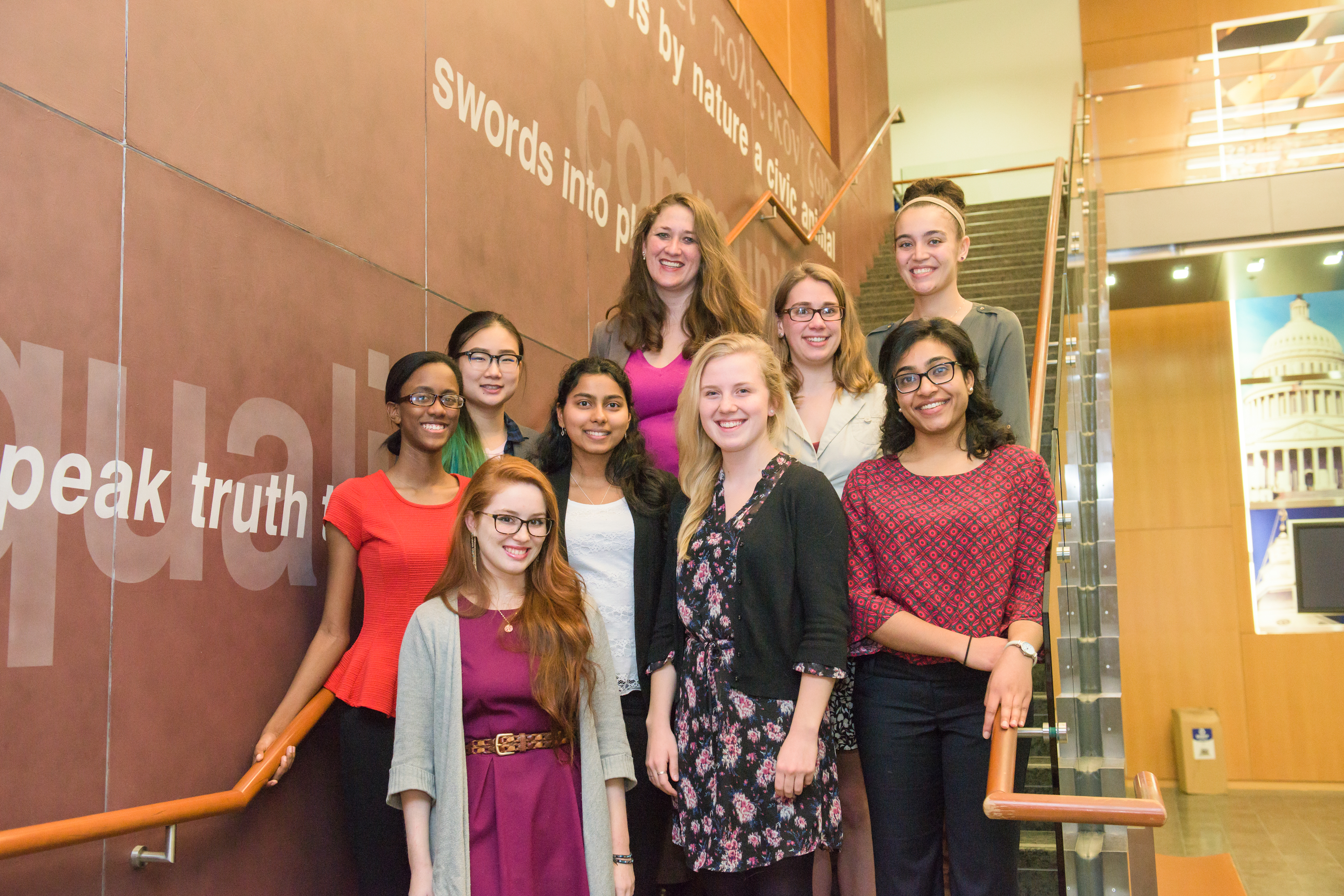 2016-17 France-Merrick Cohort Awardees. From left to right, bottom row Isabel Geisler; second row, Markya Reed, Nimasha Fernando, Amy Hoffman, Lavanya Garnepudi; third row, FeiFei Ma and Jaelyn Bos; top row, Coordinator Lori Hardesty and Corrin Markey. Not pictured: Shoba Kadavil. Photo taken by Marlayna Demond '11.