The Shriver Living Learning Community is UMBC's first Living Learning Community (LLC), now one of nine LLCs on campus.  Members of the Shriver LLC are deeply connected with the Center's vision to lead meaningful social change through transformational higher education.  Shriver LLC members represent diverse majors and interests, yet are connected through service, leadership, and advocacy. Peer Mentors (SLLC returners) support a positive transition for new members through relationship-building activities and resource exploration.
The goals of the Shriver LLC are:
Strengthen relationship-building across members of a service-minded living-learning community;

Increase awareness of a variety of community assets and needs;

Explore necessary skills to advocate for oneself and others;

Promote leadership development of LLC members; and

Research strategies to address social issues on campus at UMBC and the greater community.
Member Expectations:
Must be interviewed and selected to join the community by Shriver LLC leadership (returning members who will serve as Peer Mentors and chair various engagement committees)
096 Community Service & Learning Practicum, coordinated on behalf of Shriver Center staff.  For more info, visit 096 Community Service & Learning Practicum.
Throughout the year, students participate together in shared academic experiences to exploring community and civic engagement through the lens of Sargent Shriver and local change makers.

In the fall, all first-year students will take a first-year experience on Wednesdays, 1-2:15pm
In the spring, all members will take a SOCY 396 class (likely also on Wednesdays) for which the culminating result is a group project to pitch a social change idea.
The benefits of participating in a Living Learning Community: 
LLC members were more satisfied with their overall academic experience on campus than students not involved in an LLC.
Students were more engaged and involved on campus than students not involved in an LLC.
They interacted with more university faculty and staff members than students not involved in an LLC.
LLC members had a greater understanding of diversity and multiculturalism than students not involved in an LLC.
Video promoting Service Fest, a student run fair of available community partnerships. Students in the Shriver LLC enroll in PRAC 096 annually.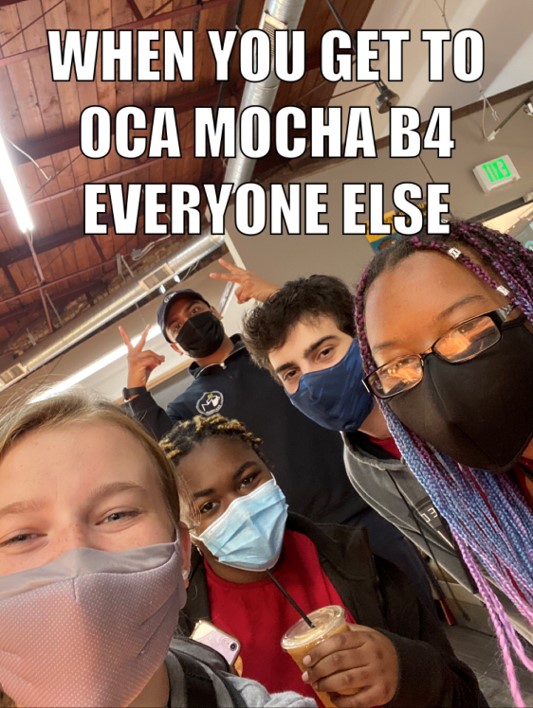 2021-2022 Shriver LLC Members (L-R) Kendall Bobick, Kristina Eyombo, Danny Hyatt, and Christa Richardson. OCA Mocha Co-Founder and former Shriver Floor Member Deep Patel pictured in black.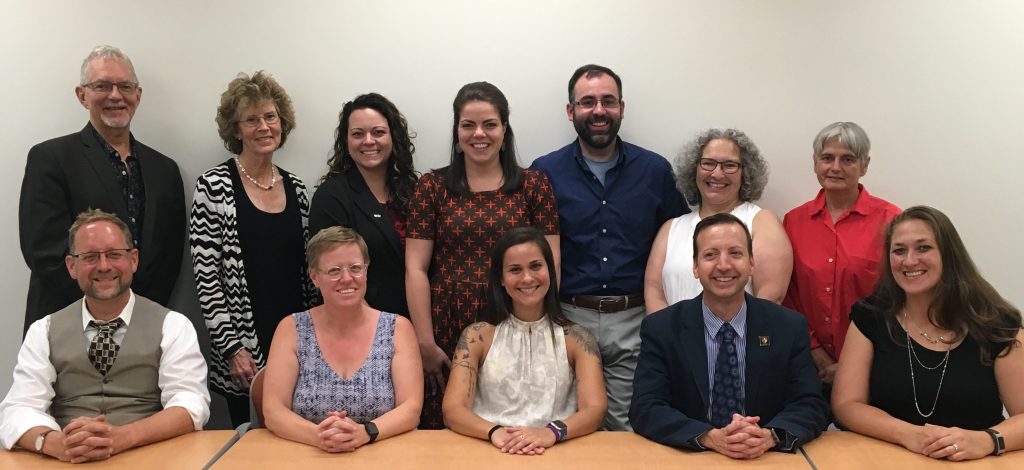 Learn more about other LLCs at UMBC!
LLC Coordinators bottom row, L-R: Stephen Freeland, INDS; Kate Drabinski, WILL; Laila Shisheneh, Discovery Scholars & INDS; John Fox, Res Life Director; Lori Hardesty, Shriver; top row, L-R: Stephen Bradley, VPA; Jill Randles, Discovery Scholars & INDS; Erica D'Eramo, CWIT Scholars; Lucie Blauvelt, STEM BUILD; Tim Phin, Humanities; Julie Oakes, Honors College; and Marie Deverneil, ILE.
Gallery of Former Students!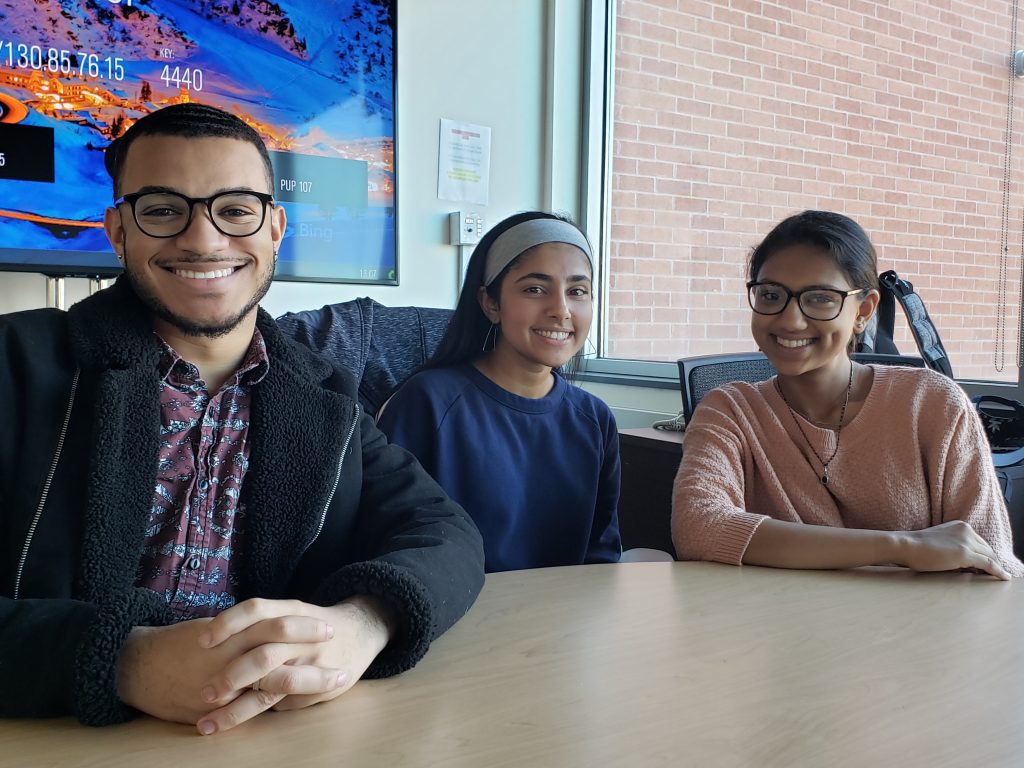 Peer Mentors (L-R) Thomas Southerland, Riva Malick, and Janvi Mahdiwala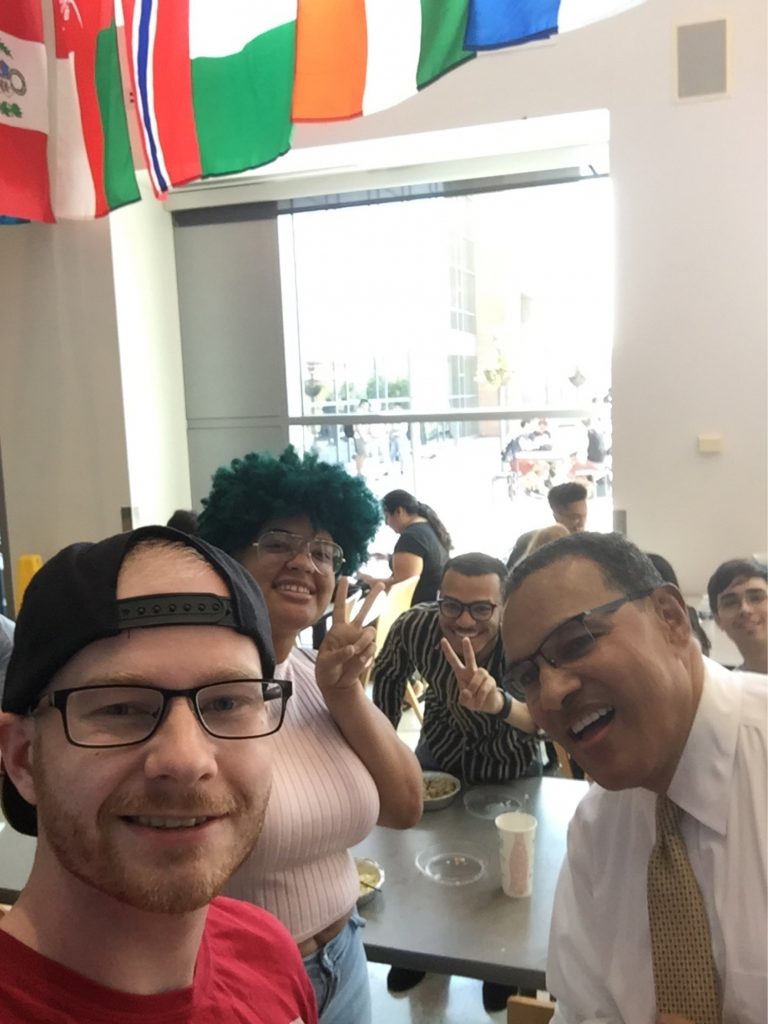 L-R, former Shriver LLC Peer Mentor Andrew Simpson (2018-19), current Peer Mentors Maia Parker and Thomas Southerland, and President Emeritus Freeman A. Hrabowski, III.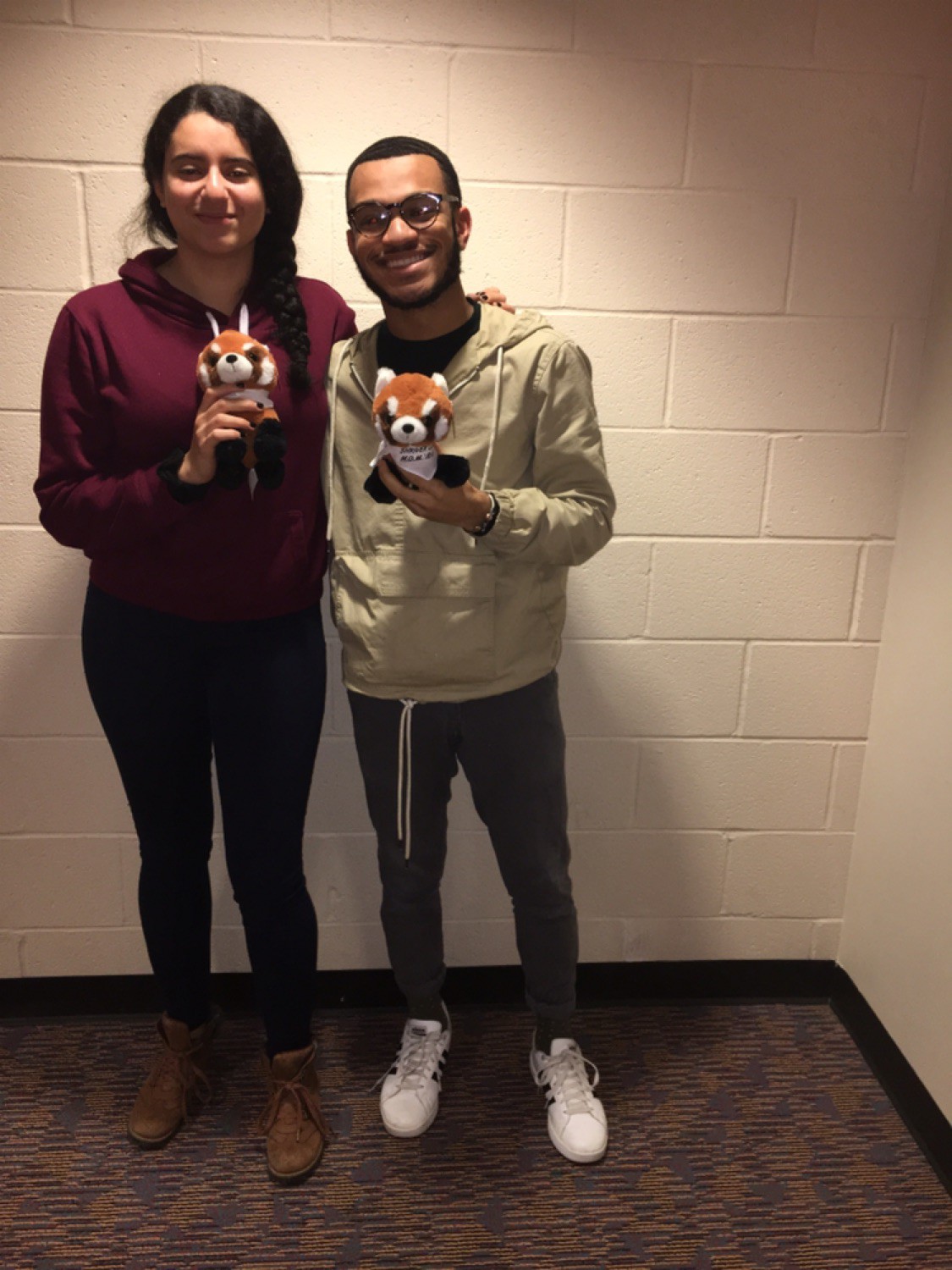 2018-19 Shriver LLC "Mentees of the Month," from left to right, freshmen Hager Younes for October 2018 and Thomas Southerland for November 2019. Hager and Thomas were nominated by their peers for their dedication to community building and engagement.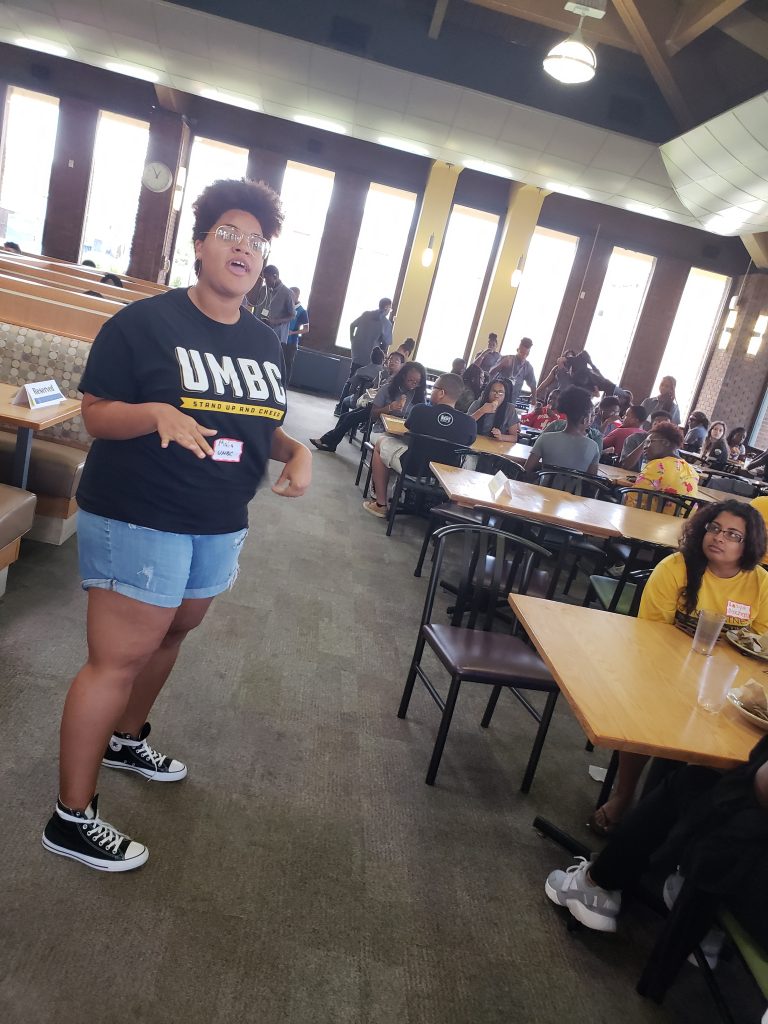 Maia Parker, an aspiring teacher and Sherman STEM Teacher Scholar, is using her "teacher voice" in True Grits when hosting a visit by the Greater Baltimore Urban League's Saturday Leadership Program.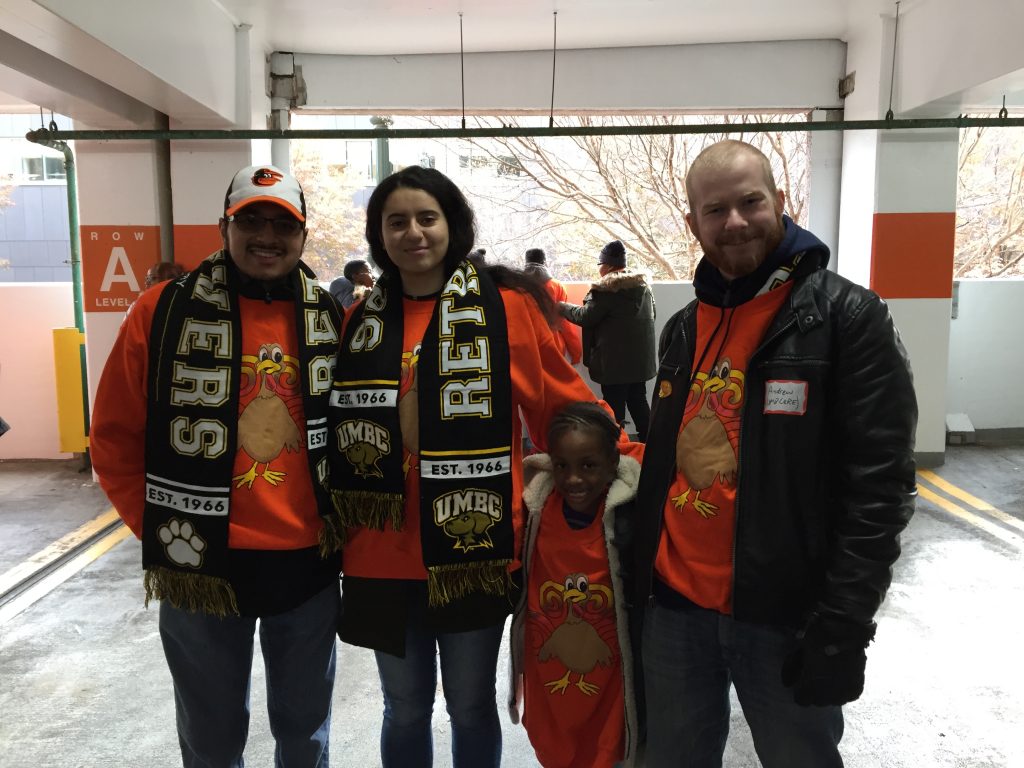 2018-19 Members Zuriel Herran, Hager Younes, and Andrew Simpson attend a parade in which their service site UMB CURE Scholars were featured in the local parade.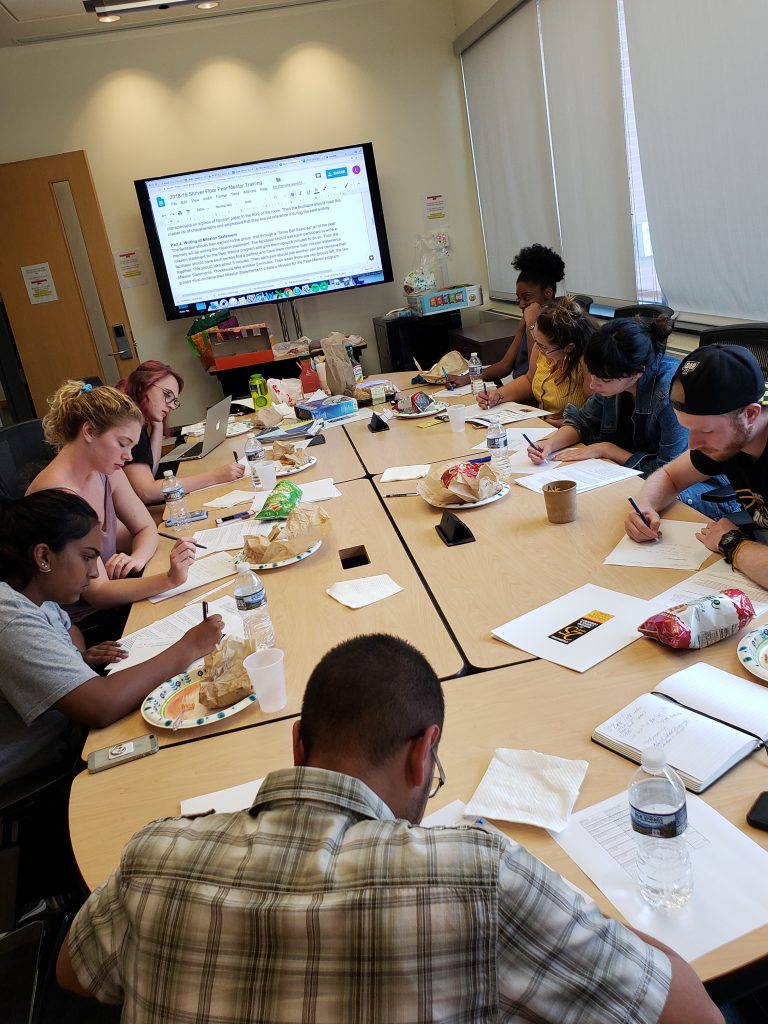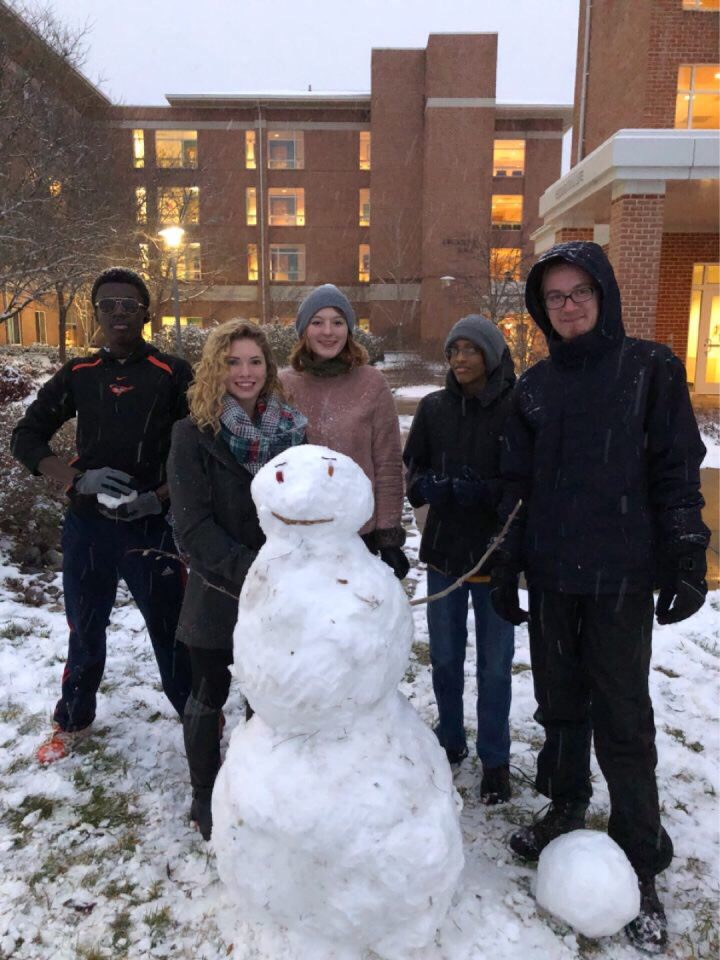 Left: Peer Mentor Orientation (August 2018). 2018-19 marks the 5th year of a formalized Peer Mentoring Program.
Right: Snow time fun on Erickson Field:  (2017-18 members), left to right, Aaron Gambrah, Genevieve Madden, Ari Cacic, Jason Koylass, and David Barry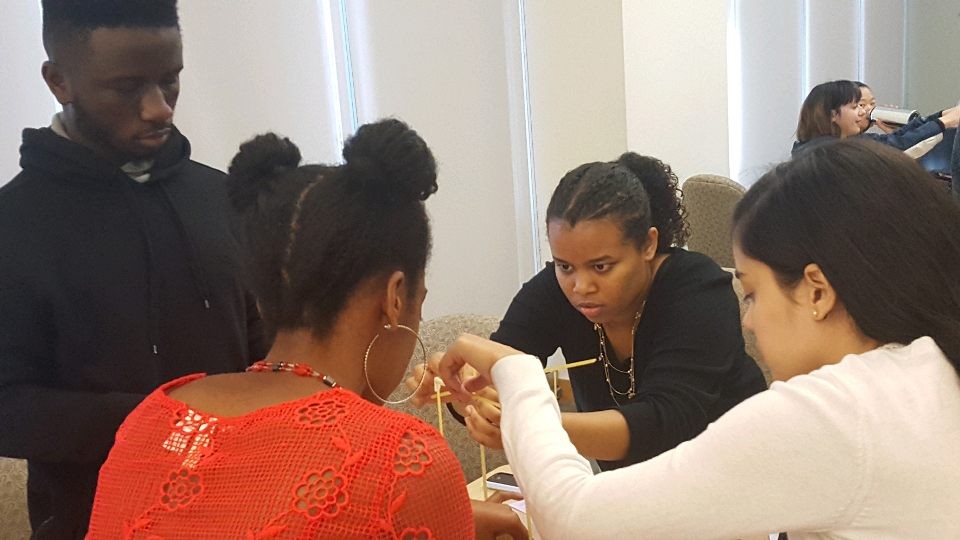 2017-18 Shriver SOCY 396 Class – team building activity with group members (from left to right) Benjamin Ballah, Princess Njemanze, Meheret Gebreegzaibher, and Shrijana Khanal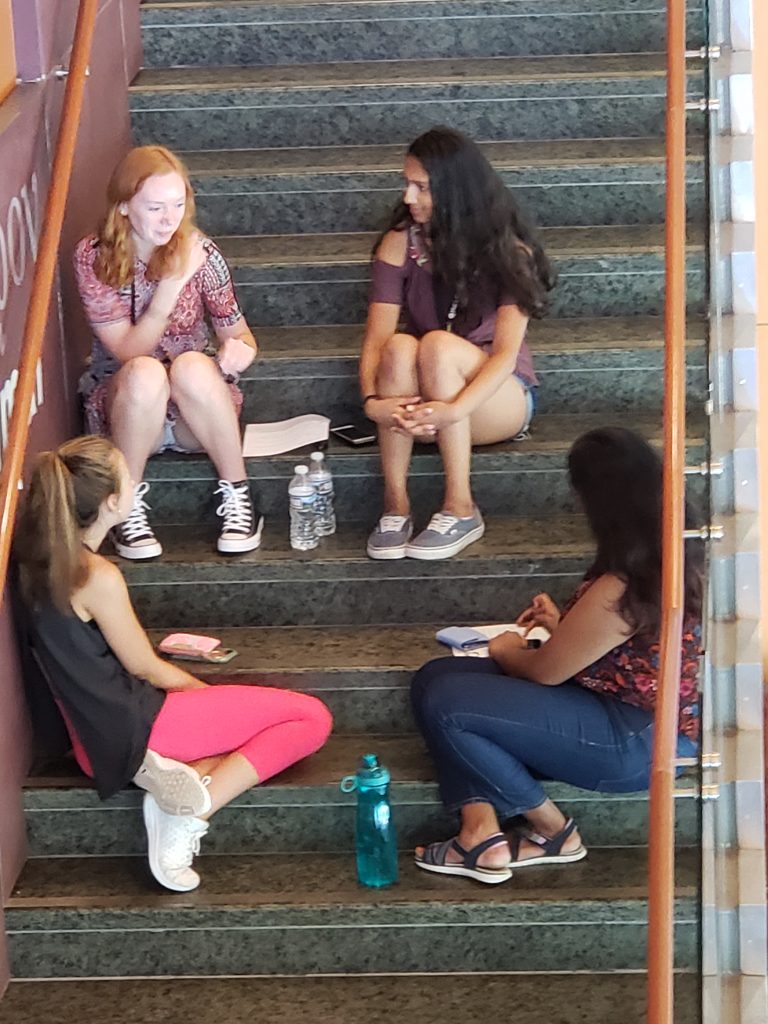 2018-19 Peer Mentor/Mentee Group gathering in Auguast 2018 (beginning top left) Lauren Pukay, Janvi Madhiwala, Juhi Naik, and Ali Clark.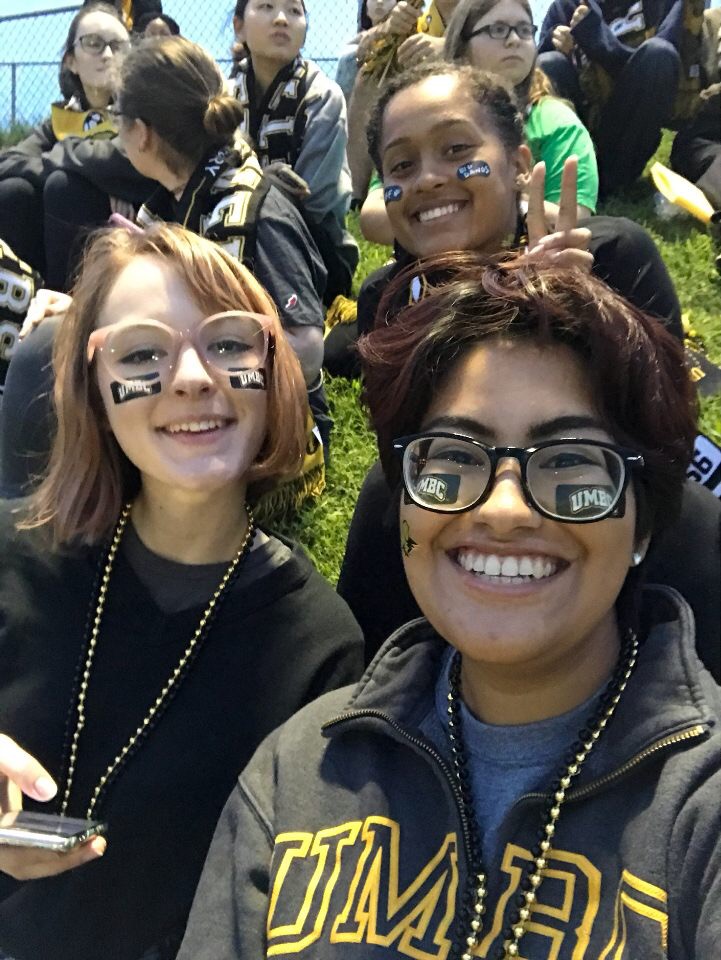 Team Spirit – 2017-18 Members, left to right, Ari Cacic, Lexi Stone (background), and Ash Chatterjee (foreground).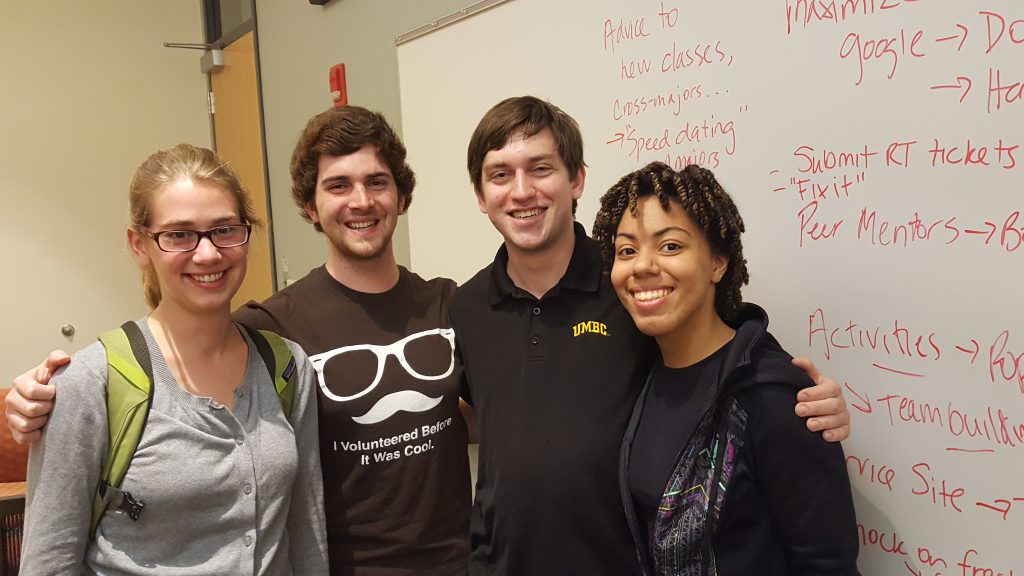 Members of the first class of Peer Mentors (from left to right): Jaelyn Bos, Michael Allen, Jeremy Matthews, and Ashley Troutman.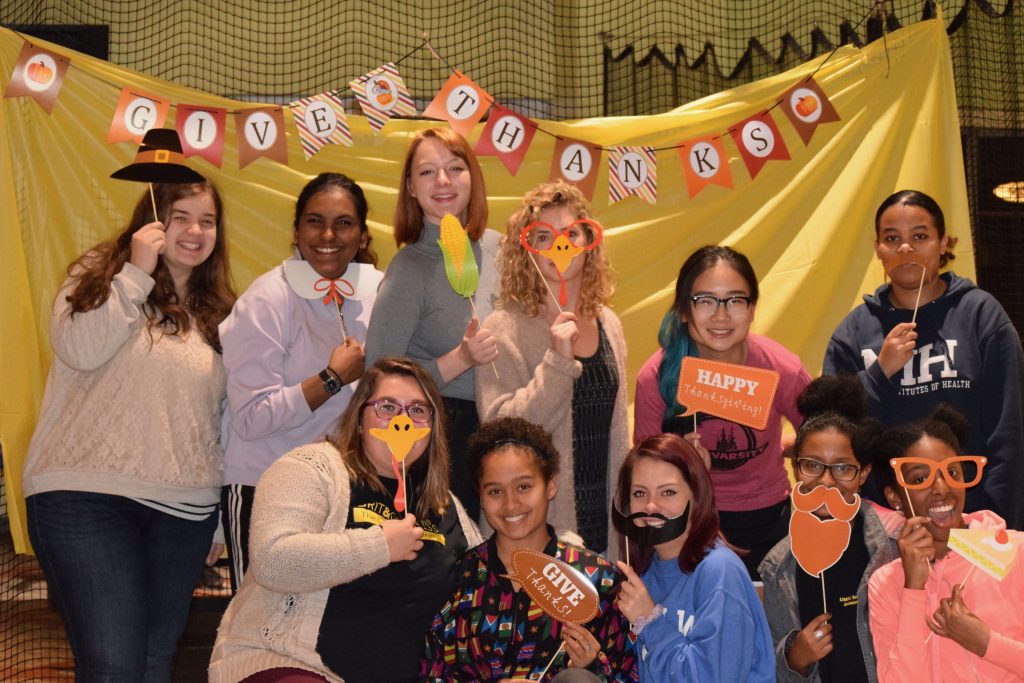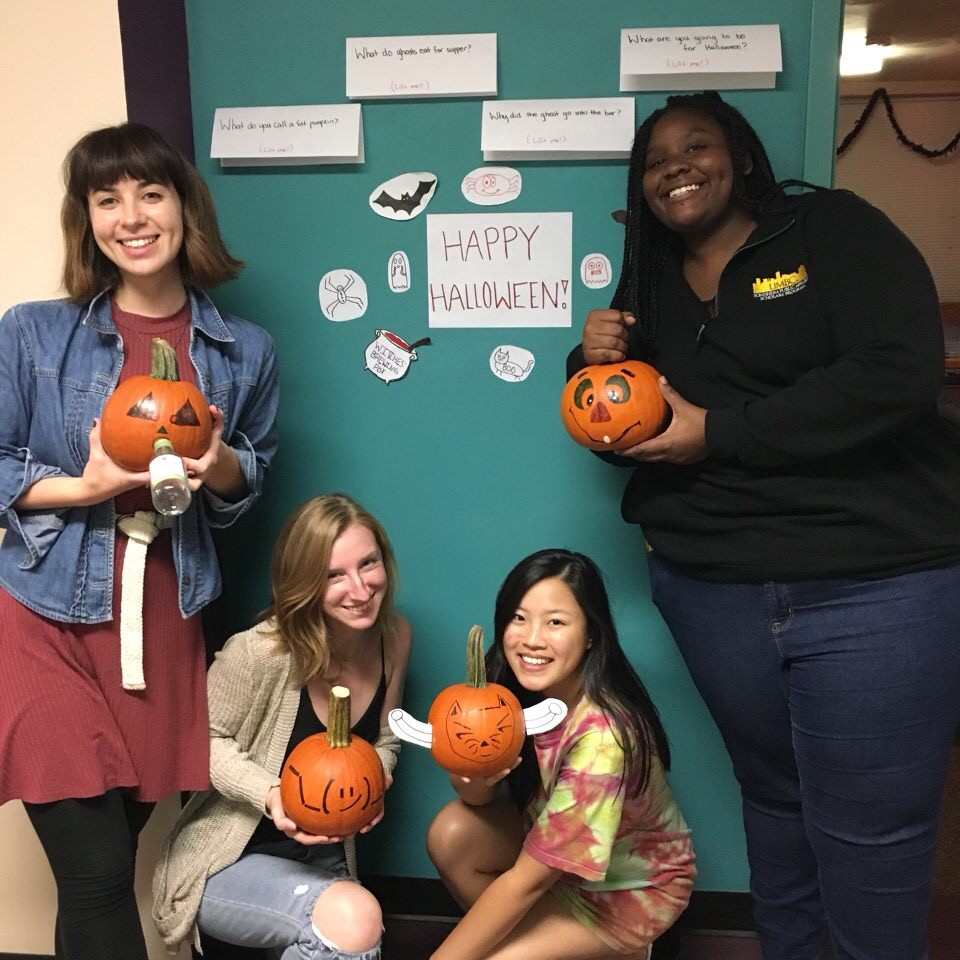 Shriver LLC members might explore BreakingGround, a campus-wide initiative that supports meaningful change, no matter what role you are in at UMBC. 2013-14 SLLC Members Michael Allen, Jaelyn Bos, and Rosa Rada were awarded a BreakingGround Grant to produce Service Fest.  Watch their Video: "There is something so special about entering a community where you are surrounded by people who see college not just as a time to study and be social, but who have talents they want to give back to the community and a passion for encouraging success. What united my roommates and I was this passion, and we are still best friends to this day" – Christina Smith,Shriver Floor Member 2011-2012, Class of 2015 Maryland DC Campus Compact AmeriCorps VISTA, College JUMP Coordinator (Journey Upward Mentoring Program), '15-'17