The 096 Community Service & Learning Practicum allows for students to engage in weekly service and reflection through the enrollment in a zero-credit, pass/fail course. In FY18, The Shriver Center coordinated over 900 placements with close to 60 different community partners.
Staff work closely with students to choose their service sites based upon their passions, goals, interests and availability. Currently, the Shriver Center has community partnerships with organizations that focus on various issue areas that serve diverse populations. These include, but are not limited to, animal welfare, education, the environment, food and housing access, healthcare and mental health. Please note that we will continue to update our service chart as new information becomes available (Sites fill, updates on orientation, etc.)
Additionally, there are many opportunities to gain leadership skills through community engagement. Service-Learning Student Coordinators lead volunteers in weekly service, facilitate reflection sessions, and foster a positive service-learning experience. Student Coordinators receive on-going support from Shriver Center staff and their peers and benefit from bi-weekly training meetings.  
To enroll in the 096 Practicum, students are expected to:
Become familiar with the Service-Learning Opportunities through our Service Opportunities Chart

Contact The Shriver Center to make an appointment with a Service-Learning Team member. Call our Front Office at 410-455-2493 or visit The Shriver Center on the first floor of the Public Policy Building (Monday-Friday, 8:30am-5pm).

Meet with a Service-Learning Team member to review the 096 Community Service & Learning Syllabus.

Decide on your service site. Many require you to take additional steps before you are able to serve, such as completing a volunteer application, background check, health clearance, and/or interview.
The Service-Learning Team will connect you with the site to complete their respective selection and/or orientation process. Your site supervisor may be a staff member or volunteer coordinator at the community organization, either a non-profit or K-12 School; some service placements are led by UMBC Service-Learning Student Coordinators.
Once you are selected and/or complete the necessary steps to begin at the site, prior to getting started, complete the Orientation Check-list on Blackboard!  

Begin service!
Interested in SOCY 396?
This course is only offered in the Fall and Spring semesters and is taught by Shriver Center Staff. This Fall 2023, it will be taught by Associate Director, Lori Hardesty, lhardesty@umbc.edu and only offered as an in-person course on Wednesdays at 11 am for 3 credits, pass/fail. T096 Prac Community Service & Learning is a co-requisite!  The 096 PRAC placement must first be established before permission for SOCY 396 will be given.  Please see the directions above.
Sample Syllabus-Independent Study SOCY 396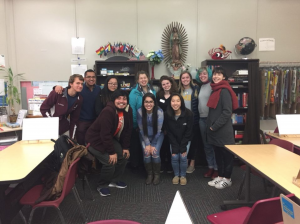 TRANSPORTATION
Transit Tips When Exiting The Bus, created by UMBC's Transit
UMBC Transit 4 – YouTube (uploaded June 12, 2017)