Refugee Awareness Week
Refugee Youth Project's College JUMP Presents:
Mon, Apr 23, 2018 at 11:00 AM - Fri, Apr 27, 2018 at 8:00 PM
On Campus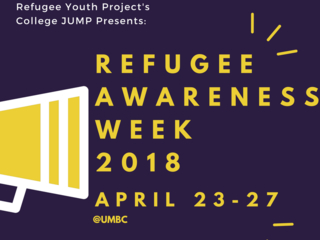 Join us for a week of activities to highlight the Baltimore refugee populations and learn more about how YOU can get involved. Students are welcome at all of the week's events. FREE Snacks and Food are provided!
Monday, April 23: Eritrean Teatime in the Breezeway
Tuesday, April 24, 5-7pm: Guest lecturer Dawit Gebremichael Habte  Apartment's Community Center
Wednesday, April 25, 6-8:30pm: Across the World in 9 Plates!             Skylight Room
Thursday, April 26, 5-7pm: Get Involved! Advocacy Event                      Lower Flat Tuesdays
Friday, April 27, 6-8:30pm: Cultural Exposé                                             Sports Zone