Intern of the Week- Shreya Mohan at T. Rowe Price
Learn more about her internship
September 4, 2012 1:36 PM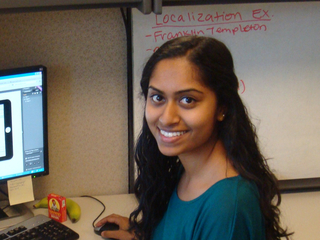 Shreya Mohan
T. Rowe Price
Owings Mills, MD
Major: Information Systems

Briefly describe your internship, including your day-to-day tasks and responsibilities.
At T. Rowe Price, I work in the Emerging Client Capabilities department, which is responsible for defining and implementing digital best practices and solutions that will address the needs of our firm's clients. I'm working on a wide variety of projects. One of my main projects is to determine a solution for mobile document access through a pilot of two iPad application solutions with business users. Other projects I'm working on include conducting competitor research in search engine optimization tactics, creating an inventory of all client account access log in locations on the corporate site, and helping develop an iPad application concept by creating a wireframe prototype.

What have you enjoyed the most about your position or organization?
I really enjoy that my group gets the opportunity to be thought leaders and work with those who are thought leaders. Ideas don't go unheard in our department. Also, I love the fact that the projects I work on deal with new technologies in the IT world like mobile applications for example.

What have you gained from your experience that you could not have gained from another summer activity?
I have learned a lot from a technical standpoint from my experience especially in terms of understanding and seeing firsthand the broad role technology plays and how it contributes to a company's success. Beyond that, I have learned a lot about the unspoken business rules and etiquette, which are not typically covered in textbooks.

How do you see your work as meaningful? Has it given you a chance to work on issues or with communities that matter to you?
I see my work as meaningful because I am able to contribute to enriching the overall client experience at T. Rowe Price. In terms of a career, my aspiration in a broad perspective is to be able to enhance the user experience of technologies that people use to make their lives easier and more meaningful.

How has your experience shaped the way you think about your power to impact the world?
My summer experience has inspired me to continue to be a leader of innovative thought. I've had the opportunity to fine-tune skills like problem solving and critical thinking that I developed in an academic context and transfer them to an industry or "real-world" setting.