France-Merrick Scholarship Program
The Shriver Center coordinates this undergraduate scholarship program, funded by the France-Merrick Foundation. Celebrating 20 years, this scholarship is available for students who demonstrate an exemplary commitment to service, leadership, and civic engagement on the UMBC campus and in Baltimore City.   The France-Merrick Scholarship Program seeks to combine service and reflection, build relationships, and strengthen networks to affect meaningful change.
Scholarship Awards:
Fellows are awarded a scholarship that goes towards tuition, mandatory fees, and room and board expenses.  This will not exceed $15,000 for Maryland students, $22,000 for out-of-state students.  Fellows will engage in service connected with Baltimore City;  serve in leadership roles (which includes convening meetings for the France-Merrick Scholarship Program), support meaningful professional development, and serve as ambassadors of service at UMBC.
Scholars are awarded a scholarship of up to $1,500.  Scholars will engage in service connected with Baltimore City, support meaningful professional development, participate in meetings, and serve as ambassadors of service at UMBC.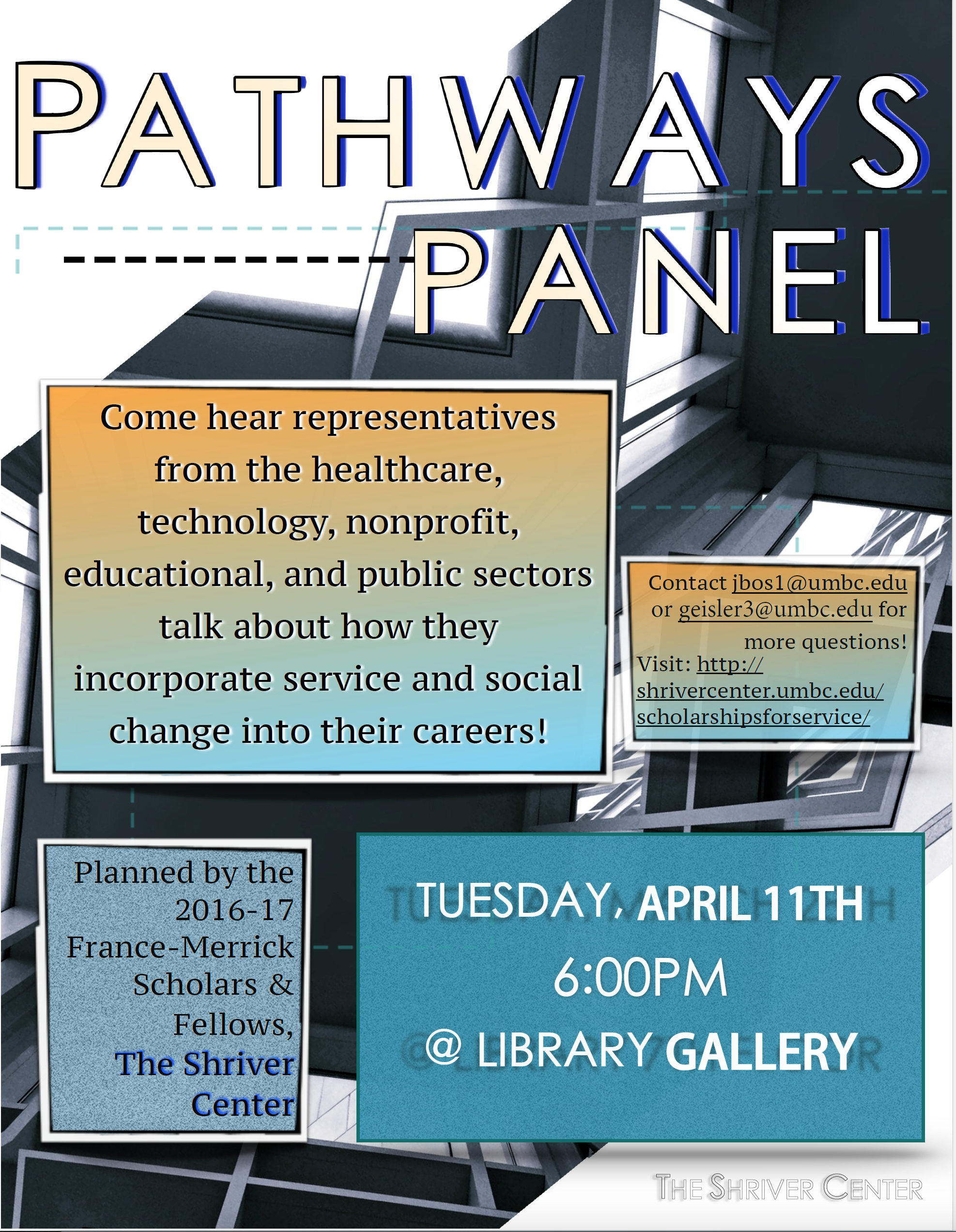 Confirmed Speakers:
Dr. Judy Walton
Dr. Judy Walton has years of experience in both healthcare and educational issues. Currently, Dr. Walton runs a consulting firm advising government and private businesses on communication, management, and diversity issues, and works in the manuscript research review department at Howard University. She is on the board of the non profit organizations Damien Ministries (HIV and AIDS education and treatment) and the Southeast White House (Community Center in Southeast Washington, DC), and the chair of the board of Unity Healthcare.
Meghan Carpenter
Meghan Carpenter is a UMBC alumnus ('14, Political Science) and a service coordinator for The Choice Program. She is also an alumnus of AmeriCorps and currently works in education with The Choice Program at Benjamin Franklin High School.
Rajan Patel
Rajan Patel is an avid maker who believes we can build things to help others. He co-invented the Embrace baby incubator, a product of empathy-driven design that has impacted and saved the lives of over 250,000 babies across the developing world. Today, he is passionate about empowering the makers and problem solvers of tomorrow as the Co-Founder and CEO of Dent Education. He has organized and led over 25 programs on design thinking and social innovation across six countries. Rajan holds a BS in Biomechanical Engineering and an MBA from Stanford, and an MPA from Harvard.
Marianne Young
Marianne Young has her Masters of Social Work with a concentration in medical social work. She has spent 10 years in healthcare administration in the private sector, and 12 years as a practitioner in community, home health and hospice setting. Her primary client population is low income, elderly, with healthcare issues. Marianne is an expert in navigating Virginia's elderly and disabled waivers and partnering with a continuum of health care providers. She volunteers in non profit sector with the American Red Cross.
Nine undergraduate students received scholarship awards for the 2016-17 academic year (Major, Minor):
Fellows
Jaelyn Bos  Environmental Science (BS) and Biology (BA)
Isabel Geisler  Global Studies, Spanish, and GIS Certificate
Scholars
Nimasha Fernando  Biology B.S. and Interdisciplinary Studies B.A.: Intercultural Health; Anthropology
Lavanya Garnepudi  Biochemistry and Molecular Biology
Amy Hoffman  Biology, B.A., Health Administration and Public Policy, B.A.
Shoba Kadavil  Political Science and Economics
FeiFei Ma  English, East Asian Studies
Corrin Markey  Biology, Spanish Certificate
Markya Reed  Psychology, Social Welfare
Eligibility criteria for 2017-18

Be a U.S. citizen
Be an Undergraduate Student as of the beginning of the Fall 2017 semester (the upcoming award year).  Applicants' graduation date should be no sooner than May 2018.  Incoming freshmen and transfer undergraduate students are welcomed to apply.
Demonstrated experience in service to the Baltimore community.
France-Merrick Fellows and Scholars will continue to participate in service to Baltimore City during the 2017-18 award year in meaningful ways.  If needed, Shriver Center Staff will work with recipients to identify service opportunities.
Application Submission:
There are two components to the application. Candidates should:
Complete the application, which includes 2 essays.  Click HERE to apply!
At the end of the application, you will be asked to submit an unofficial transcript.
Timeline for 2017-18:

Monday, February 6th, 2016 – the application opened

On-line applications are now CLOSED!  (Monday, April 3rd, 2017)

 
By Thursday, April 20th – notification regarding status.  Some applicants will be invited for interviews (in-person or Skype).  Those not invited for an interview will receive an email.
Monday, April 24th – Friday, April 28th, 2016 – Interviews will take place for those moving into the next round
The week of May 1st (May 1st-May 5th) – 2017-18 notifications 
Questions?  Contact:
Lori L. Hardesty
Assistant Director
Service-Learning, K-16 Partnerships
UMBC/The Shriver Center
1000 Hilltop Circle
Baltimore, MD 21250
(410) 455-2493 (office)
lhardesty@umbc.edu
Jacqueline C. Hrabowski Endowment Fund
Since 2003, a scholarship has been awarded to a UMBC student in recognition of the accomplishments and contributions of Jacqueline C. Hrabowski. For 2017-18, TWO UMBC students will be selected based upon her/his commitment to improving the lives of at-risk urban youth through academic studies and community service activities. Recipients will receive $2,000 for the 2017-18 academic year, $1,000 each semester.

Selection Criteria
Candidates should:
Be a full-time, degree-seeking student at UMBC.
Be either a currently enrolled in her/his sophomore or junior year (in 2017-18, would be a junior or a senior).
Demonstrate a minimum 3.0 cumulative GPA.
Application Submission:
There are three components to the application. Candidates should submit the following:
An updated resume.
An unofficial transcript.
A 500-word essay explaining actions that she/he has participated in that have contributed to improving the lives of Baltimore City youth.
Emailing application materials (essay, resume, AND an unofficial transcript) is preferred.  Application materials should be submitted to:
Lori Hardesty
The Shriver Center
Public Policy Building, 1st floor
lhardesty@umbc.edu
Application Deadline:
The deadline is Tuesday, February 28, 2017, by 12 pm. First round of interviews will begin in mid-April, final interviews scheduled as needed. 
Questions?  Contact Lori Hardesty at lhardesty@umbc.edu.