Governor's Summer Internship Program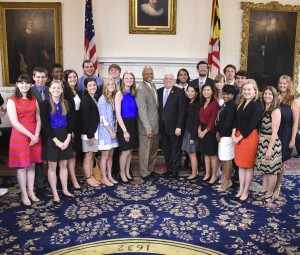 The Governor's Summer Internship Program (GSIP) introduces students to the challenges and rewards of working within Maryland state government.  This fellowship program provides the best and the brightest of Maryland's college students with the opportunity to work full-time in state agencies while being mentored by senior level administrators, such as department secretaries and directors.  
Additionally, fellows attend biweekly seminars to explore all facets of state government, speak with key decision makers, and receive coaching by a UMBC Political Science professor on policy writing.  The fellows work together in groups, applying the knowledge gained in the seminars and at their sites to research and prepare a policy analysis and recommendation.  The program culminates in a celebration at the Maryland State House in Annapolis, where fellows present their policies to the Governor and other key decision makers!  Students are paid a stipend of $3,000 for their participation in the program.
The Fellowship Has 4 Components:
[Experience]
Fellows are placed at a government agency full-time, 4 days a week, under the mentorship of a senior-level professional
[Exploration]
Fellows attend an orientation and seminars to strengthen their understanding of the functions of state government and policy making
[Exposure]
Fellows attend meetings, events, field trips, and networking opportunities to connect with Maryland's leaders
[Practice]
Fellows work together in groups to put their knowledge and skills into practice, researching and preparing a policy analysis and recommendation to present to the Governor
Eligibility criteria for fellows
Rising Junior or Senior
Attending a Maryland institution OR a current Maryland resident attending an out-of-state institution
GPA 3.0 or above
Available May 31-August 11, 2017
2017 GSIP Important Dates:
December 5- Applications Live
March 15- Applications due
April 15- Applicants notified
May 31-June 2- Orientation
June 5- Opening Celebration
August 10- Closing Celebration
Applications will open on December 5th.  Please check back then or email publicservicescholars@umbc.edu with any questions.
This site is best viewed on a computer rather than a mobile device.