A city thrives or falters on the vision of its citizens- Walter Sondheim Jr.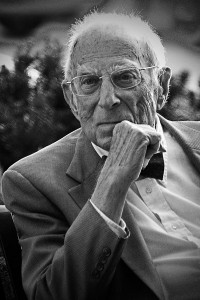 Walter Sondheim, Jr. was a longtime Baltimore civic leader who played crucial roles in desegregating the city's schools and redeveloping its downtown. Mr. Sondheim's influence, both in highly visible roles and behind the scenes, had been a powerful force in the city for more than half a century.
In 1954, as president of the Baltimore school board, he pushed for the speedy desegregation of city schools after the landmark Brown v. Board of Education Supreme Court decision, even as other cities employed delaying tactics.
He was best known nationally for his pivotal role in the revival of downtown Baltimore, which transformed a moribund port city into a model of urban renaissance through projects like Charles Center and the redevelopment of the Inner Harbor.
Until his death, colleagues said, he continued to show up at his office as senior adviser at the Greater Baltimore Committee, the business advocacy group he helped found in 1955. The office overlooks the once rat-infested harbor basin where Harborplace, the National Aquarium and the Maryland Science Center now line the brick promenades.
In that office, and in those of several other jobs, Mr. Sondheim served as sage and consensus builder, specializing in assembling public-private partnerships for redevelopment.
Among his many posts were those of chairman of the Baltimore Housing Authority, director of the Baltimore Urban League and chairman of Charles Center-Inner Harbor Management, the nonprofit organization that oversaw the Inner Harbor's development.
Born in Baltimore in 1908, Mr. Sondheim graduated from Haverford College in Haverford, Pa., in 1929. He worked four decades at Hochschild, Kohn & Company, a Baltimore department store that branched into the suburbs, before retiring as a senior vice president in 1970.
The retirement proved short-lived, and Mr. Sondheim soon threw himself into efforts to renew housing and the port. First as a member, then as president, of the State Board of Education in the 1990s, Mr. Sondheim pressed for more accountability for failing schools throughout the state.
-adapted from the New York Times tribute to Walter Sondheim, Jr., February 16, 2007.