Intern of the Week: Randi Williams for Computer Engineering
Learn about Randi's Experience at Jawbone (Code 2040)
October 22, 2013 12:46 PM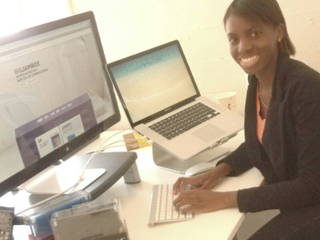 Name:  Randi Williams

Internship, Co-op or Research Site: Jawbone (Code 2040)

Location of the Organization (City, State): San Francisco, CA
Major(s)/Minor(s):  Computer Engineering

Expected Graduation Year: 2016

Briefly describe your internship, co-op, research, or service- learning opportunity, including your day-to-day tasks, responsibilities, and assignments.

During the working day I am at Jawbone, a San Francisco based start-up that makes incredible products and software to support it. My place at Jawbone is to support the web tools team in maintaining Jawbone's high quality website. Lately Jawbone has been undergoing a renovation of some of the older pages on the website and my assignments this summer include working with the design team to update these pages. My largest project involves completely redoing the Careers Page on the site.
What have you enjoyed the most about your position or organization/company?
The San Francisco start-up scene is totally different from the way business is done on the East Coast. Besides the obvious cultural differences working in a start-up is just a totally different experience. The company is doing very well but it is still in the growth stage meaning that everyone who works here is a vital part of the mission. Everyone has a job title and maybe a specific set of assignments to complete but there is so much room for interdisciplinary work. All of the teams get to merge and work together and I've found that my skills in a lot more than computer science are being sharpened this summer.
What have you gained from your experience that you could not have gained from another opportunity?

Unique to the Silicon Valley is the spirit of creativity and self-confidence. Everyone here is a dreamer and that is encouraged and highly rewarded. There are a lot of daily problems that people have and that they want to solve. Everyone is working to get their ideas and solutions out there by taking the initiative to drop everything and build it. I will go home with a piece of that energy in me, the entrepreneurial spirit that I can build things to make the world better. 
What advice would you give to another student who is seeking an internship or similar experience?

Come to Silicon Valley! There is so much here for students in every discipline and there is a lot of fun to be had and a lot to learn. I feel pumped up and motivated now to go back to school and be really successful.
How do you see your experience as meaningful? This might involve skills you've gained, information you've learned, mentors you've connected with, or projects you've completed.

The most meaningful experience I am getting out of this summer is the amazing opportunity to be a CODE2040 Fellow. This program is all about getting more minorities, Latinos and Blacks in particular, involved in Silicon Valley. As a Fellow I have had the opportunity to talk to all kinds of leaders across the start-up world and ask them advice about how to get my career started when I am finished with school. These people are really busy running things like Facebook, Dropbox, Andreessen Horowitz, Twitter, and Square but they think that what CODE2040 is doing is important enough to have these deep, meaningful conversations about how even as a student I can think about things like how to build the next big app or website that is going to change the world.
Please provide a short quote about what you liked most about your position / earning internship credit / the internship placement process / the Shriver Center:

Having the opportunity to intern this summer has set me on a trajectory to the stars.