Intern of the Week: Michael Moubarek for Biochemistry
Michael's experience: UMBC Dept. of Biological Sciences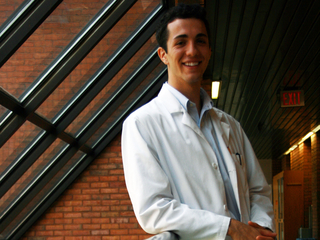 Name:  Michael Moubarek 
Internship, Co-op or Research Site: UMBC Department of Biological Sciences
Location of the Organization (City, State): Baltimore, MD
Major(s)/Minor(s):  Biochemistry & Molecular Biology
Expected Graduation Date (Month & Year): 2015
Briefly describe your internship, co-op, research, or service- learning opportunity, including your day-to-day tasks, responsibilities, and assignments.
I have had the privilege of researching in the lab of Charles Bieberich, PhD. since January 2011.  It was my first research position but since then I've been thrust into the midst of multiple challenging research projects. My daily responsibilities include genotyping and maintaining mouse colonies. I also regularly perform dissections of mice to help characterize the progression of prostate cancer in transgenic mouse models. To date I have been involved in a drug trial and collaborative projects with other universities in the Baltimore area.
What have you enjoyed the most about your position or organization/company?
I have most enjoyed working with the people in our lab. We have many different people from around the world who have a bevvy of interests and talents. Everyone brings an immense amount of specialized knowledge and elements of uniqueness to the lab and I often find myself deep in conversation or doubled over in stitches with laughter. It has been so easy to work past the accents and different cultures to pursue scientific discovery together. I wouldn't have it any other way and I truly believe that the dynamic in our lab would allow us to tackle any problem successfully in our field of focus.
What have you gained from your experience that you could not have gained from another opportunity?
Dr. Bieberich believes in challenging undergraduates with graduate level research opportunities and often tasks undergraduate students with their own project and a fair amount of autonomy.  This can be intimidating especially when you want results but I thoroughly enjoy the challenge and it keeps me busy and ever-learning.
What advice would you give to another student who is seeking an internship or similar experience?
Take the time to talk to upperclassmen who have conducted research in your field about what they learned and how they sought out their internship. Find labs that focus on something that you find interesting, make a short list, and take the time to read the papers published by the lab. When you contact the principal investigator be respectful yet persistent. Many investigators are extremely busy and receive many requests to join their labs so find a way to make yourself positively stand out. If you receive an offer and end up working in a lab pay close attention to the details, be inquisitive, and always go above and beyond.
How do you see your experience as meaningful? This might involve skills you've gained, information you've learned, mentors you've connected with, or projects you've completed.
My experience has instilled within me a confidence that with the right team, a little ingenuity, and enough hard work nothing is impossible. I have gone from not knowing how to conduct basic research and being clueless in a wet lab setting to training other undergraduate students excelling in lab work in little over a year. The valuable foundation of lab and animal care skills that I have developed will allow me to chase my dreams without worrying too much about a lot of the details of the work. The incredible mentoring from Dr. Bieberich has been a real blessing and I cannot thank him enough for investing in me.
Please provide a short quote about what you liked most about your position / earning internship credit / the internship placement process / the Shriver Center:
Take advantage of all the opportunities open to you at this point and your life. Pick something and run with it until you fail then pick something else and repeat.