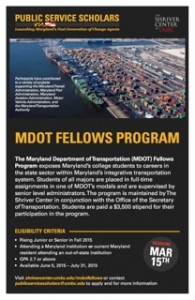 NOW ACCEPTING APPLICATIONS!
The deadline to apply has been extended to  March 25, 2016
A completed application will include:
2 Essay responses (see prompts below)
Resume
Transcripts (Unofficial are fine)
2 Letters of Recommendation (see below for submission instructions)
Click Here to Apply!
Please upload documents labeled as  "MDOT Last Name, First Initial- (document name)" example: "MDOT Smith, J- Resume"
APPLICATION INSTRUCTIONS AND INFORMATION
All applications will be reviewed after March 15 by a committee made up of MDOT and higher education professionals, former program participants, and others familiar with the program.  

Essay Questions
Please be sure to include your name in the file name and in the document.  Essays must be submitted individually as Word documents or PDFs.   Each essay answer should be approximately 2 pages double spaced.
1) What does the term "change agent" mean to you and how does it relate to your participation in the MDOT Fellows program?  How do you see yourself as or becoming a change agent?
2) Select a transportation issue impacting the state of Maryland that is of interest to you. Describe how you would address this issue.
Internship Placement
Students accepted into the MDOT Fellows Program will be placed in a position that aligns with their interests and skills.
Transcripts
Unofficial transcripts are acceptable.  Please be sure to submit your transcripts for each post-secondary institution you've attended.
Letters of Recommendation
Ask your reference for a letter of recommendation early; thoughtful recommendations take time to write and your references are busy people.  Tell them about the program and why you are interested in it. Good recommendation letters will speak to specific strengths and skills.  Letters may be emailed from a professional email address to mdot@umbc.edu or you can upload signed letters on letterhead with your other application documents.
Making Changes to Your Application
Once you have submitted an application you will be sent a confirmation email containing a link.  Save this email and be sure to use that link to update/change any part of your application.  The link is unique to your application so do not share it with others.  Only one application per email address may be submitted so it is important to keep this email until your application is finalized.
For more information contact Hannah Schmitz-  mdot@umbc.edu