Shriver Center Night!!!
Fund/friend raiser at the UMBC Men's Bball game vs. Hartford
Wednesday, February 6, 2019
7:00 PM – 9:00 PM
UMBC Event Center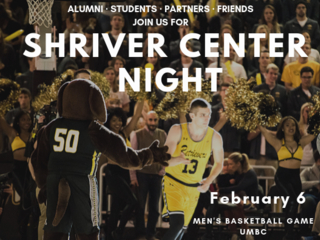 Come celebrate 25 years of The Shriver Center bridging the campus and community with this one-of-a-kind evening! Community partners in attendance will be acknowledged. Keep an eye out on The Shriver Center's 25th Anniversary page for a few possible additions to the evening!  
Please consider making a donation to support continued programming!