Catonsville woman heading to the Philippines with Peace Corps to help troubled youths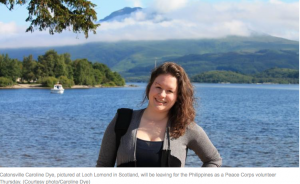 By Mina Haq Catonsville Times
Before Caroline Dye graduated from Towson University in 2014, she started filling out her application to volunteer in the Peace Corps.
But it wasn't the right moment — a two-year commitment to live in another country was a big one, and the timing had to be perfect. So Dye stopped halfway through her application, despite her fascination with the organization since her freshman year of college.
Three years later, the timing is finally right for the 25-year-old from Catonsville who is preparing to embark on a 27-month excursion volunteering with at-risk youth in the Philippines.
Dye departs Thursday for two days in Atlanta to meet the other volunteers before taking off for Manila, where she'll spend three months living with a host family and receiving extensive language, cultural and safety training before leaving for another host family and starting her volunteer work in a smaller community.
It's Dye's first time volunteering abroad, but she's volunteered with the Baltimore Child Abuse Center and Johns Hopkins Children's Center, and spent the past year-and-a-half as a case management specialist at the Department of Juvenile Services in Baltimore.
"I have an affinity for working with kids that need a little bit of help," Dye said. "There's nothing better than being able to travel and experience another culture and being able to help at the same time."
Dye will be working with juvenile offenders, victims of sex trafficking, victims of sexual abuse and kids at risk of not finishing school, she said, by partnering with residents on projects that will help children with "life skills" and "give them positive energy to keep going."
She doesn't know her day-to-day schedule yet, but she estimated she'll be traveling with about 90 people, including 22-year-old Clarksville resident Samantha Stull. There are 85 Baltimore-area residents among more than 7,000 Peace Corps volunteers worldwide, a spokeswoman said.
Dye will be part of the youth in development program, which has 9 percent of volunteers out of the six sectors, with education boasting the most at 40 percent.
About 10 percent of volunteers work in Asia. Forty-seven percent are in Africa and 19 percent in Latin America, according to data as of September 2016.
Joby Taylor, a former Peace Corps volunteer and director of the Peaceworker Program* at the University of Maryland, Baltimore County, said there's a growing value in community-based learning and cross-cultural exchanges, which the Peace Corps provides.
"Something like the Peace Corps isn't two years off, but but it's connected to a career and life goal in being engaged in community work and experiencing diverse cultural perspectives," he said.
The Peace Corps provides each volunteer with a stipend that covers housing and food, as well as graduate school benefits at some universities. Dye wants to go to graduate school after returning, she said, possibly to study social work.
Her mother, Jackie Dye, has been in China for a study abroad program with Baltimore County Public Schools for six weeks. The day she returns is the day Caroline leaves, so the two won't see each other. Jackie Dye wrote in an email that she'll "miss her terribly."
But she said despite her nerves, she knows her daughter has an "adventurous spirit" and wants to help others.
"I hope she learns how to be flexible and adaptable in a new setting," Jackie wrote, "and is able to use the things she learns to make her future everything that she wants it to be."
Dye's grandfather is worried for her safety, as the city Marawi in the southern Philippines is facing control by militants, causing the displacement of tens of thousands. Dye isn't going to be near that portion of the country, though she does plan to travel to neighboring countries and visit home at least once. Her father is so excited about her that he's "practically pushing me out the door," she said.
She doesn't speak Filipino, but said learning a new language is one of the aspects she's most excited about, as well as immersing herself in a completely different culture. She's been abroad — to Scotland, Ireland and the Bahamas — but never to east Asia, and said she's "lived in Maryland pretty much my whole life."
Dye isn't too worried about leaving her life behind for two years. She lives at home, so there's no apartment lease to worry about, her car is taken care of, she left her job at the Department of Juvenile Services and her family is going to take care of her cat and three dogs.
"I feel like I have to do it," Dye said. "I don't wanna be one of those people who was like, 'Oh, I wanted to do that. I wish I had done that when I was your age.' I don't want to end up like that."
Copyright © 2017, The Baltimore Sun, a Baltimore Sun Media Group publication |