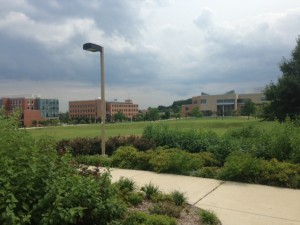 SUCCESS students take a variety of integrated courses on campus. Some classes are led by UMBC faculty and combined with sections of other traditional UMBC courses, while other classes are specifically designed by the SUCCESS Program and led by traditional UMBC student interns with SUCCESS staff supervision and support. These student interns are receiving Practicum Leadership credit through the Service Learning Department and this has proven to be an experience with tremendous value to both the SUCCESS students and the traditional UMBC students.
Below is a sample of the variety of courses students take during their 4-year experience:
SCSS101 – "Learning With, From and About Individuals with Intellectual Disabilities: An Integrated Approach" (combined section with FYS 102)
Description: This seminar course engages up to 28 participants comprised of current, full-time degree-seeking UMBC students majoring in Education, Pre-Med, Social Work, and Psychology and SUCCESS participants.  Faculty from a variety of disciplines (e.g., Sociology, Information Systems, Theater, Psychology, Visual Arts, Language, Literacy & Culture, Mechanical Engineering, and Education) will share theories from their fields as the framework for interactive, experiential activities and skills development. UMBC students attending the first session each week will learn interdisciplinary theories and concepts. The second weekly session will integrate the SUCCESS participants into the course, and all participants will work together in the active learning and skills development activities, allowing students to learn about, with, and from each other.
SCSS103 – "Work-Based Learning: Gaining Employment Experience through Internships"
Description: SUCCESS participants will engage in internships to develop transferable employment skills. These experiences will provide several hours of work-based learning 4 days/week over the course of the semester. Participants will have the opportunity to choose experiences from a variety of settings.
SCSS106 – "Drawing I" (combined section with ART214)
Description: Participants will be introduced to the visual vocabulary of drawing. Through materials and processes, drawing will be explored as a means of visual thinking, a way to depict what we see and visualize what we think, and a method of communicating ideas. Technical skills will be applied to an exploration of representation and visual invention, including figurative imagery.
SCSS108 01 – "Financial Education – Consumer Finance"
Description: Participants will develop basic skills in areas such as currency, budgeting, savvy shopping, and managing money. These skills will be developed utilizing basic math development through incorporation with class activities.
SCSS108 02 – "Financial Education- Personal Finance"
Description: Participants will develop basic skills in areas such as budgeting and saving their personal finances. The course also includes benefits counseling to help the participants understand financial resources that are available to them. These skills will be developed continuing to build upon the basic math development through incorporation with class activities.
SCSS112 – "Computers as a Resource"
Description: SUCCESS participants learn basic skills about using the computer and navigating the UMBC systems, including myUMBC. The participants will establish their computer accounts and email accounts, and will learn how to use computers as a resource for different forms of communication and research. While learning about email and social media accounts students will be introduced to a comprehensive unit on internet safety and how they can protect their accounts and personal information from cyberattacks and vulnerabilities. SUCCESS participants will learn about computer information systems. Participants will also be introduced to computer hardware, software, procedures, systems, and their integration and application in a classroom and professional setting. Participants will use skills learned in classroom to capstone on skills and knowledge to create documents and presentations.
SCSS113 – "Wellness"
Description: SUCCESS participants will learn different strategies, techniques and skills for maintaining their mental and physical well-being as well as build on transferable skills to foster independent living. Topics will include: healthy eating and meal preparations, nutrition, basic hygiene and self-care, the benefits of physical activity, stress management, appropriate relationships and friendship building, and navigating public transportation.
SCSS115 – "Public Speaking"
Description: Participants will learn about different types of speeches. They will also learn strategies for speaking clearly and effectively in different situations.
SCSS118 01 – "Career Pathways – Goal Setting"
Description: In this course Participants will set personal and professional goals while exploring career interests and opportunities. Class activities will include off-site field trips and in-class presentations. Class assignments will help participants develop their reading, writing, speaking, and technology skills that are transferrable to any job setting.
SCSS118 02 – "Career Pathways – Resume"
Description: In this course participants will focus on building an effective resume and the tools and opportunities for job searching.
SCSS118 03 – "Career Pathways – Art of Interviewing"
Description: Participants focus on interview skills and skills needed to advocate for themselves as they begin to interview for their careers after graduation.
SCSS125 01 – "3-D Technology and Entrepreneurship"
Description: Participants will learn how to create objects using 3-D technology, entrepreneurship concepts, best practices and guidelines, and hands-on experience in running their own businesses
SCSS127 – "Human Sexuality & Relationships"
Description: In this course, participants will learn about different relationships with their peers. Topics will include: friendships, dating, relationship safety, and sexuality.
SCSS 128 – "Legislation & Policy "
Description: In this course, different types of legislation around disability and disability policy will be discussed. The participants will learn the importance of legislation and how it affects their daily lives. The course will incorporate quest speakers from experts in the field and field trips for hands on experience.
SCSS129 – "Conflict Management"
Description: Participants will look at different types of conflicts that arise in life and how to resolve them. The course will also cover management techniques for stress and anger.