Call for Applications & Info Sessions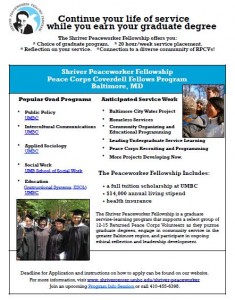 The Peaceworker Program will hold 4 virtual information sessions for prospective applicants to review the basics of the program and leave plenty of time to answer your questions. Your participation is completely optional. If you would like to join us, please complete this brief registration. Thank you!
Wed., November 16, 2016 at 11:00 AM (EST)
Tue., November 29 at 2:00 PM (EST)
Thu., December 15 at 5:00 PM (EST)
Fri., January 6 at 9:00 AM (EST)
Thank you for your interest in the Shriver Peaceworker Fellowship. You can find answers to common questions in the sub-sections below the menu to the left. If your question is not answered here please feel free to contact us.  Thanks again!