Applying for the Fellowship
Each year on a competitive basis the Shriver Peaceworker Program invites 6-10 Returned Peace Corps Volunteers to participate in a rigorous, two year social change leadership program integrating three key components: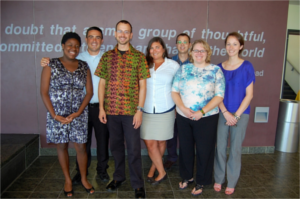 full-time graduate study in diverse disciplines
part-time service placement with community partner organizations addressing diverse social needs
a year round ethical reflection curriculum including seminars, retreats, and events.
We are looking for RPCVs who are passionate about making a difference, interested in translating their service abroad into engaged service-learning experiences here in our Baltimore region, and ready to join a similarly engaged community of social change leaders.
Prospective applicants should read through the website to learn more about the program, review the FAQs, and feel free to reach out with any questions they may have that are not answered here on the site.
Applications are due by January 15th. Fellowships are awarded annually in April, and the Peaceworker Program year begins in late-July.